English homepage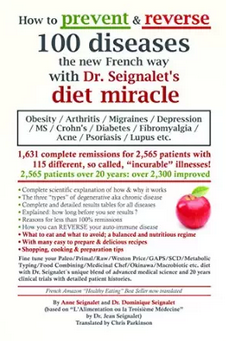 This new book by Dr. Seignalet's daughters is called: "How to prevent and reverse 100 diseases the new French way with Dr. Seignalet's diet miracle."
.co.uk audience click here
.com audience click here
Answers to your reasons not to buy the book - click here
The Seignalet (pronounced "Saynyalay") diet was trialled on 2.565 patients with 115 different diseases over 20 years. Over 2,300 improved. Many achieved full remissions.
The Seignalet diet was developed by a French Doctor and Professor of Medicine called Dr. Jean Seignalet. (Pronounced "Shon Saynyalay"). He died in 2003.
Dr. Seignalet was a pionneer and expert in Human Leukocyte Antigens. Using his knowledge of genetics as a basis, he set out to find the cause (pathogenesis, aka etiology) of each degenerative illness. What he discovered was that for nearly all degenerative illnesses, although the cause is usually multifactorial, damage to the junctions of the cells of the instestinal wall ("leaky gut") caused by modern foods is the common factor to all. Dr. Seignalet identified the foods that cause the damage to the intestinal wall. His diet seeks then to eliminate them, thereby allowing the gut to heal and the disease to go into remission.
Dr. Seignalet treated 2,565 patients with the diet over a period of 20 years and kept meticulous notes. He wrote a 700 page scientific treatise with hundreds of his own diagrams and graphs and references to studies (those of himself and others). This book called "Nutrition – the third medicine" is in course of translation. Dr. Seignalet's daughters (one of whom is herself a doctor) have written a short guide to the original "doorstep" which explains Dr. Seignalet's discoveries and ideas in simple to understand terms. It also tells you how to follow the diet in detail, with recipes and menu plans. Included in the daughters' book are Dr. Seignalet's tables which give you the breakdown for each individual disease; number of patients treated, number of 100% remissions, number of 80/90% remissions, 50% improvements, and finally (very few) failures.
Diseases which respond to the Seignalet diet (results in terms of patient numbers, numbers of full remissions, 80/90% improvements, 50% improvements, failures and percentage successes are given in special tables in the book).
Rheumatoid Polyarthritis
Idiopathic purpura thrombocytopenia
Pemphighus
IgA nephropathy
Osteoarthritis
Autism
Arteritis of the lower limbs
Idiopathic Pulmonary Fibrosis
Inexplicable fatigue
Cancers (prevented)
Leukemias & cancers (treatment)
Colitis
Microscopic colitis
Ulcerative colitis
Chron's disease
Gastritis
Gastroesophageal reflux disease (GERD)
Acne
Atopic eczema
Urticaria (Hives)
Urticarial Vasculitis
Psoriasis
Prurit
Chronic bronchitis
Asthma
Recurring ENT infections
Chronic sinutsitis
Hay Fever
Chronic rhinitis
Allergic conjunctivitis
Angioedema
Sinonasal polyposis.
Ulcers
Langerhans cell histiocytosis
Cutaneous mastocytosis
Behcet's uveitis
SAPHO syndrome